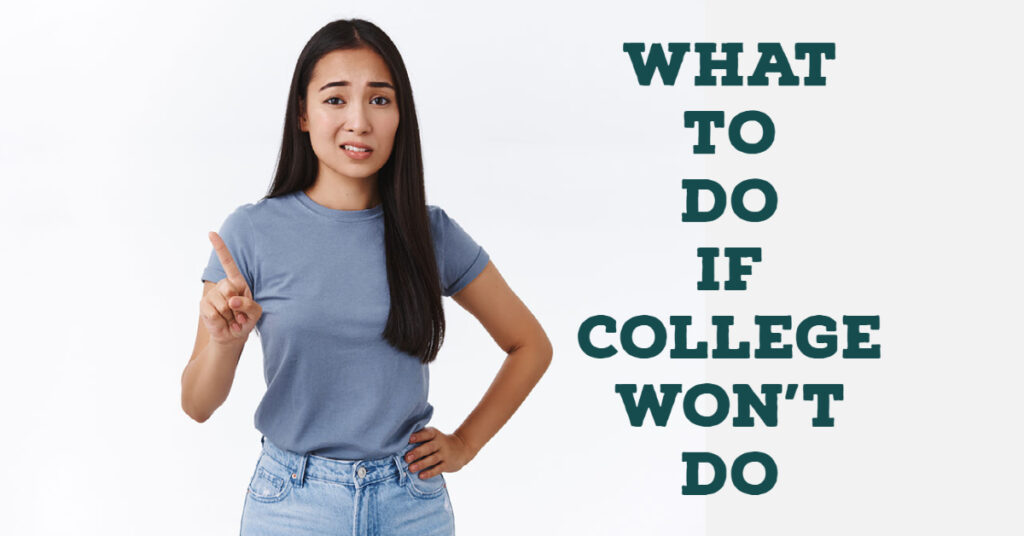 This may seem like an odd topic to introduce on a parenting for college blog. But it must be said. Sometimes college just won't do. If you are one of those parents whose child isn't thrilled with the prospect of college, I'm here for you. Not every child should go to college—there, I said it.
No college doesn't necessarily mean your child is stuck in a low-paying job for the rest of their life. They have options. These options can provide your child with a bright future and many who pursue these paths often outpace those who went to college.
Trade or technical school
Trade and technical schools offer specific vocational training for a great variety of skilled careers. Most of these careers require two years or less of training. Mike Rowe, of the popular television show Dirty Jobs and founder of a foundation for skilled trades, stated in an interview with Salary.com:
"America is in the midst of a skilled labor shortage, as hundreds of thousands of available jobs go unfilled because workers lack the necessary training. But even more upsetting, is the attitude of many Americans that the trades are merely a last-ditch alternative when college doesn't work out. Parents have long relied on examples of certain unattractive jobs to motivate their children academically, sending a message of 'If you don't get good grades and go to college, you could end up doing that.'"
Each year, Mike's foundation gives away a modest pile of money through the Work Ethic Scholarship Program to help people get trained for skilled jobs that are in demand. We've proven that opportunities in the trades aren't alternatives to viable careers – they are viable careers. Through this program, we encourage people to learn a useful skill, and we reward those who demonstrate that they'll work their butts off. When it comes to hard work, there is no alternative. Since our inception, we've granted, or helped facilitate the granting of, more than $5 million in Work Ethic scholarships and other like-minded programs or initiatives that also work to close the skills gap.
For a student who enjoys this type of work, a trade or technical school would be a much better choice than a four-year college.
Entrepreneurship
With a passion for a service or product, a commitment to work hard, and some knowledge of social media for marketing, just about anyone can become an entrepreneur. Some of the most successful men and women were entrepreneurs without a college degree: Michael Dell, Bill Gates, Steve Jobs, CoCo Chanel, Mary Kay Ash, and many more. Starting a business with little or no investment has never been easier with all the online tools and the wealth of information available from a simple Google search. Any entrepreneur will tell your student, however, that it requires long hours of hard work and dedicated commitment to your business.
Volunteer
If your student isn't motivated toward college, volunteering for a year or two is a good way to build character and learn the value of service. Consider researching these programs:
The National Civilian Community Corps (NCCC)

program is a program for men aged 18-24, who want to serve for about one year. It's a residential program, and you work in teams of 8-12 doing community projects.

The AmeriCorps VISTA program

 is another good option. Your student would work for a year as an employee of a non-profit organization.

Conservation Corps

 is much like AmeriCorps but focuses on work outdoors.

Global Routes

is an organization that sends young people to foreign countries for 12 weeks or so to perform service.

Catholic Volunteer Network 

provides a wide range of volunteer opportunities and has a searchable database of opportunities that don't require a college degree or any religious affiliation.
Military
For many high school graduates, the military can be a good option. There are many different branches and areas of service. The benefits include a salary, room and board, paid college tuition through the GI Bill and retirement after 20 years. The bonus is the military will often train you for a career after your years of service and your student can enter the workforce with experience.
To learn more about joining the military, you and your student can visit these helpful websites: https://www.military.com/ and https://www.todaysmilitary.com/.
Online training
Massive Open Online Courses (MOOCs) are free online courses available for anyone to enroll. MOOCs provide an affordable and flexible way to learn new skills, explore courses related to careers and deliver quality educational experiences. Options for online courses continue to grow. Khan Academy, which began as a series of YouTube videos, is making online instruction a more widely used tool for students who aren't interested in traditional learning.
Apprenticeship or fellowship
If traditional education doesn't appeal to your student, an apprenticeship or fellowship might be a good career pursuit. The Thiel Fellowship, for instance, chooses 20 young men and women under the age of 20 to give $100,000 to skip college and realize their visions and ideas. The fellows are mentored for two years by some of the world's top scientists, researchers, and business leaders.
These similar programs can offer the benefits of an apprenticeship:
Enstitute

 – provides full-time, paid apprenticeships for students aged 18-24.an

Echoing Green

 – provides funding for young leaders who are passionate about social change.

TechStars

 – provides funding and guidance for entrepreneurs of any age in the technology industry.
Career college
Even if your student isn't keen on the idea of another four years of education, he might warm up to a career college. Your student can go to a specific career school such as an art or fashion institute or a culinary institute. Another option would be to consider a college that focuses not only on academics but also on hands-on education. One such college is Pennsylvania College of Technology. Students graduate with a liberal arts degree trained to immediately enter the workforce.
Internship or job
Students can also work at paid or unpaid internships after high school. These internships will help him discover his interests and gain insight into various careers while learning what training or education he would need. Many employers offer paid education benefits while working and will often hire interns as full-time employees after completion of the internship.
Another option your student should consider is to simply get a job and work for a year or two before deciding on a college path. Working at a minimum wage job can teach your child valuable lessons like showing up on time, staying late if necessary, having integrity and treating customers, co-workers and employers with respect. Those simple characteristics are in high demand in the workplace.
Artistic path
My nephew chose this path after trying college for one semester and realizing it was not for him. He filmed BMX racing as a hobby during high school and was able to turn this hobby into a freelance career. Today he travels the world filming all sorts of race events and creating advertising video content for businesses. If your student is artistic or creative with a hobby that can turn into a career, encourage him to explore ways to generate income using his natural talent and gifts. Some career paths in this area might be videographer, graphic artist, photographer, musician, painter or sculptor.
---
If you're worried about your student's future earning potential without a college degree, you can rest easy. Take a look at these 40 high-paying jobs that don't require a bachelor's degree. A bachelor's degree does not guarantee a high-paying job or financial success. Don't assume that a four-year college is the best option just because that's what everyone else says.
For many students, a college education will be the right choice. For some, however, it will not. A bachelor's degree may not be what's right for the course of your child's life. Education doesn't have to be traditional. There are all types of education. It's perfectly acceptable for your student to explore other paths.
(Visited 18 times, 18 visits today)
Related