Today's guest post is from Elliot Felix, author of "How to Get the Most Out of College".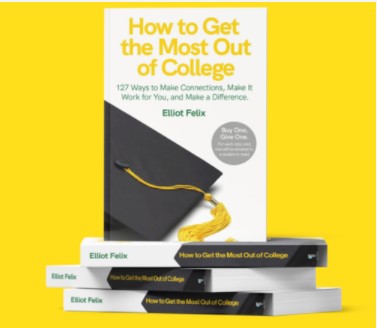 College can really feel like a maze. It's complicated, expensive, and the future is at stake. It's also a different maze than what we went through a generation ago, and so are today's students. They are more diverse in terms of age, race, income, and experience. More transfer between colleges. More work during college, live off campus, and study part-time. Even before the pandemic, about one in six studied fully-online and about one in three took at least one online class. Compared to 30 years ago and adjusted for inflation, private colleges are twice as expensive and public colleges are three times as expensive. Students today have only a 50% chance of making a better living than their parents compared to an 80% chance 30 years ago. Is it any wonder why today's students and families are more career-focused, more value-conscious, and need more support?
Melding academics, social activities and career
The most important thing I can tell you is that, while college can feel like a maze, many of the walls in this maze can be taken down if you know how college works. Then students can see their college experience as something they take charge of and create using the building blocks in the book.
Some of the biggest walls in college are between academics, social activities, and career. Here's an example of breaking down these walls: imagine a group of students working on a class project to create a marketing plan for a local healthcare non-profit. Who knows what will come out of this – applying what they learn to make a difference, making lifelong friends, getting an internship at the non-profit, or discovering a career in marketing? 
Thinking about college as something you create and connecting the academic, social, and career aspects of college are two of the big ideas in the book. The other one is that there are common facets of college life like feeling a sense of belonging and asking for help as well as aspects of college that may be specific to different aspects of a student's identity – which can overlap; for instance, many students can be the first in their family to go to college, have a disability, and be a transfer student all at once. So, How to Get the Most Out of College is organized in three sections:
Understanding yourself and your college choices; for example understanding your strengths, finding ways to sample college before you decide/go, and looking for a college that offers value
General advice applies to all students: thriving in classes, feeling supported, building relationships, mastering technology, enjoying the campus, and exploring career paths
Specific student identities: first generation students, students of color, students with disabilities, students with children, international students, transfer students, veteran students, and student athletes.
There are some important themes that can help all students and families. One is belonging. Some studies show that students who feel this are 4x more likely to graduate. But it takes time and is hard for everyone. Students have to get involved in a class or a club and connect with professors and advisors – and they have to be patient. Asking for help is another common theme.
One thing I've probably heard from every college I've worked with is that they wished more students used the services they provide; for example, today's libraries can not only help students with a research paper, they can help them improve their writing, better analyze data, hone their presentation skills, manage their time, and study more effectively. There are also lots of options for mental health support, not only through a counseling center but through peer support groups, advisors, mentoring programs, and workshops on topics like mindfulness, resilience, and stress-reduction.
How to Get the Most Out of College provides advice for specific student identities like First Gen students, but it also provides a way for students to learn a little about those who may be different from them in some way and see how advice for them could even help their life.
Getting the most out of college if you fall into these student identities
Here is my advice for different student identities which can apply to others as well:
First generation students: Talk with family members about how their role and availability will change and find ways to learn the jargon and processes that are the "hidden curriculum" of college
LGBTQ+ students: Evaluate the campus climate through ratings and reviews on sites like the Campus Pride Index, visiting the LGBTQ+ center, and talking to students
International students: Prepare for cultural differences in class like asking questions, working in groups and avoiding plagiarism and leverage the International Student Center as a resource
Student Athletes: Look for a two-way relationship with the program to understand what they offer in terms of career opportunities, leadership training, and mental health support
Students with Children: Use campus resources such as the student parent center or on-site daycare (one study found using on-site day care increased the likelihood of on-time graduation by 3.5 times)
Students of Color: Find places and programs where you see yourself such as a student organization or cultural/multicultural center and manage code switching
Students with Disabilities: Go to the Accessibility Office for advice and assistance on getting accommodations and take advantage of more flexible learning online
Transfer students: Get credit for prior studies and even work experience, since students lose an average of 40% of their credits when transferring between schools
Veteran Students: Engage in college life despite possible differences in age and background rather than just going to class and leaving
Whether I am giving a talk, writing a whitepaper or article, or consulting for a client, my ultimate goal is to help college students of all ages and backgrounds find their place, people, purpose, program, and path. My hope is that How to Get the Most Out of College helps students and families do this by seeing college not just as something to navigate, but instead as something they create so they can take full advantage of everything college has to offer. 
---
Elliot Felix is an author, speaker, teacher, father, and consultant on a mission to make college work for all students. He has been featured in Forbes, FastCompany, and the Chronicle of Higher Education, spoken at SxSW Edu, taught courses on innovation, and been a consultant to more than 100 colleges and universities. You can learn more about him at https://www.elliotfelix.com/ 
(Visited 26 times, 1 visits today)
Related