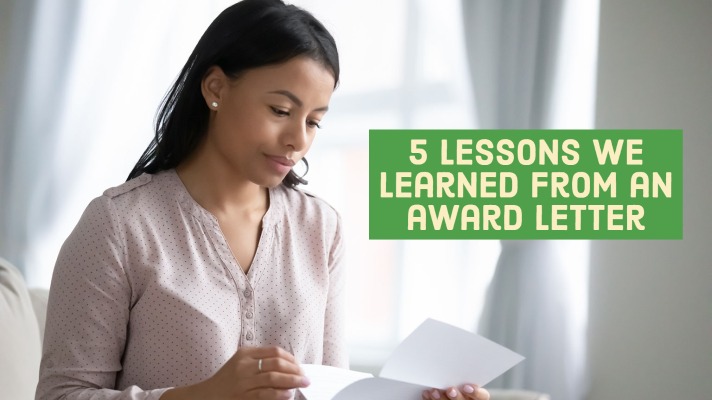 After my daughter applied to colleges, we waited with anticipation to receive those offers of admission. But just as important, was the financial aid award letter. That letter could mean the difference between attending a college, deciding to incur debt, or attending a less expensive college.
When the letter finally began to trickle in, I realized that choosing the colleges to apply to was only the beginning of some very tough decisions. We learned some lessons along the way.
Lesson 1: Not all award letters are alike
It's hard to compare colleges when their award letters aren't standardized. Not all award letters include the same information, so the way they present it and how you interpret it is extremely important.
For example, many colleges list the cost of attendance separate from room and board, making the financial award appear larger than it truly is. Don't discount the cost of living—fees usually account for only one semester and can add up quickly.
The best colleges have implemented the new Financial Aid Shopping Sheet created by the U.S. Department of Education. This sheet breaks the award down into segments, including all the information you will need to evaluate the award. If the college doesn't include this, you can print out your own copy and transfer the data they provide.
Lesson 2: Colleges often use shady practices in the award letter
Lurking between the lines in these award letters are some practices colleges use when offering admission and financial aid. Colleges will either lure students to accept their offer of admission or discourage those students who were only offered admission to fill their quotas and inflate their numbers.
They use tactics like front loading, gapping and padding in their award letters to make it appear the award is greater than it truly is. Front loading happens when colleges give their most generous aid to incoming freshmen—the award is not renewable. Gapping happens when a college offers admission but doesn't back it up with financial aid—there is a gap between what the college costs and your EFC (what you can afford to pay). Padding happens when colleges pad the award with student loans, parent loans and work study.
The lesson for parents and their college-bound students is to carefully scrutinize, analyze and question each item in their financial aid awards before bothering to compare one college's offer to another. It may turn out that freshman year is a best deal at one place but if the total years until graduation are tallied, another choice may be the better bargain. 
Lesson 3: Read the fine print
Grants and scholarships are the "meat" of any award letter. Although these awards are technically free and do not have to be repaid, it's a good idea to ask about any guidelines or requirements attached to each. If your student has to maintain a certain average, take a certain number of hours, or meet certain requirements in order to keep the scholarship or grant, these should be clearly stated upfront. If not, be sure to ask.
Ask these questions:
Is the grant/scholarship renewable and if so for how many years? 
What are the strings attached to keeping the grant/scholarship? 
If the grant/scholarship is lost, what will replace it? 
Will the college bill increase in following years and if so, by how much? 
Will the grant/scholarship be increased to keep pace with any raised college costs? 
Lesson 4: Beware the loans included in the award
Every student qualifies for student loans, as do most parents. Including it in an aid package may be helpful, but don't include them when comparing awards. Remember that loans must be repaid so you should check loan repayment calculators first before accepting them. Including loans in the financial aid package can be deceiving since they aren't actually aid and have to be repaid. It's also important to remember that you don't have to accept the loan offers.
Federal loans usually offer the best interest rates and have options for forbearance and deferment. If you are seeking private loans independently from your chosen college, make sure to compare interest rates—some can be higher than others, and can become a huge expense in the years after graduation. Most private loans will not allow the same options as government loans.
Lesson 5: You can use awards as leverage for additional aid
If there are larger awards from other colleges, use their award letter as leverage. Since one of the colleges that offered my daughter admission also offered her a full-ride scholarship, we had some leverage. If the college that your student is dying to attend doesn't offer a substantial aid package and one of the other colleges she applied to does, use those figures for leverage. Have your student contact the college and let them know it is her first choice, but she needs more aid to be able to attend. Mention that other colleges are offering more aid and you would like them to at least match these offers. These appeals are common, and most colleges will consider upping the ante if you just ask.
(Visited 8 times, 1 visits today)
Related